The Terraces at Glassford Hill: Project Highlight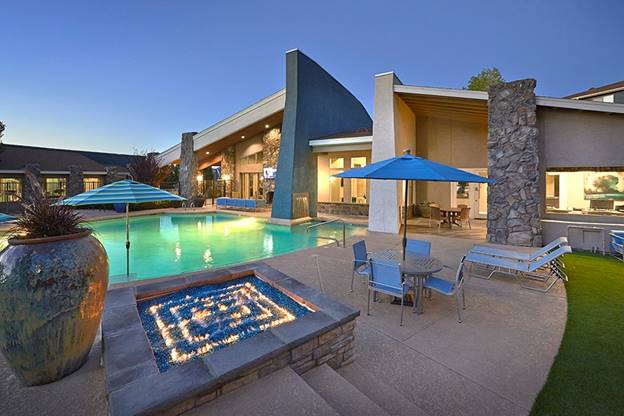 As a boutique real estate investment firm, The Barone Group specializes in multi-housing projects, particularly in the acquisition, capitalization, renovation, and successful dispositions of multi-family assets. Our hospitality-based approach allows us to transform these multi-family units into true communities that are well sought after.
The Terraces at Glassford Hill
One of our most recent projects, The Terraces at Glassford Hill, is a 226-unit, Class A luxury community located at 5700 E. Market St. in Prescott Valley, Arizona. The resort-style apartment community was built in 2003 and features 18 residential buildings. It's situated on roughly sixteen acres of land and contains approximately 225,204 square feet of built space, and offers apartments ranging from studios to three-bedroom floor plans with incredible views of Prescott Valley. The property is surrounded by 162 acres of open mountain preserve, and typically operates at or above 98% occupancy.
In 2016, The Barone Group acquired the property in cooperation with Bear Holdings Group, a Scottsdale-based real estate development and investment company, a trusted partner of The Barone Group.
Property Acquisition & Community Upgrades
After acquiring the property, our multi-family housing team implemented upgrades throughout the community. All of the units were completely upgraded and remodeled, including new flooring, new appliances, new paint, and more.
Because our team has years of experience in all aspects of business relating to acquisitions, we were able to transform the community into a highly desirable resort-style apartment complex with a variety of high-end amenities: a clubhouse, resident lounge area, business center, outdoor lounge, community swimming pool, picnic areas, a playground, a 24-hour fitness center, garage units, and covered parking.
Whether it's repositioning assets, analyzing capital structure strategies, or developing real estate, we bring it all together in a synergistic approach at The Barone Group. We take the time to identify feasible strategies that exploit current and future opportunities, successfully maneuver through rapidly changing markets, and hedge risks to realize the greatest possible value from our multi-family housing interests.
For more information on The Barone Group's other recent acquisitions and projects, visit our Portfolio.