Impact Report on ONE Walk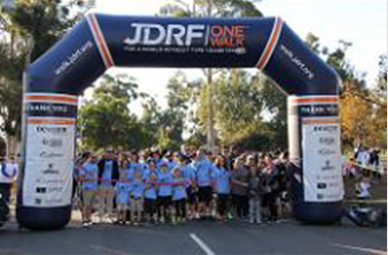 On Saturday, November 10, 2018, 47 colleagues from The Barone Group, Music Box, Watkins Environmental, and other family and friends joined the type 1 diabetes (T1D) Community at the JDRF ONE Walk in Balboa Park to raise awareness and funds for critical T1D research. www.JDRF.com. Together the San Diego community was able to raise over $721,000 for JDRF. Through Daren Barone's leadership as the San Diego ONE Walk Corporate Chair, his walk team raised over $30,000 for JDRF and type 1 diabetes research.
In 2018, JDRF invested $363.5 million in T1D research funding over 500 active research grants around the world. The money raised at the San Diego ONE Walk is currently helping to fun $69,232,110 in active research grants here in the state of California. $43,629,540.39 of that funding is currently supporting 26 active grants in southern California!
Type 1 diabetes (T1D) is an autoimmune disease that impacts millions of people around the world. The disease occurs when the body's immune system attacks and destroys the beta cells in the pancreas that produce insulin, a hormone essential to turning food into energy. Without insulin, glucose from food stays in the blood, where it can cause serious damage to all of the body's organ systems. It requires constant carbohydrate counting, blood-glucose testing, and lifelong dependence on injected insulin. With T1D there are no days off, and there is no cure.
Thank you to all of our friends, family, and colleagues for supporting the Barone Group's efforts to help find a cure for T1D!