The Barone Group Sold Dunlap Falls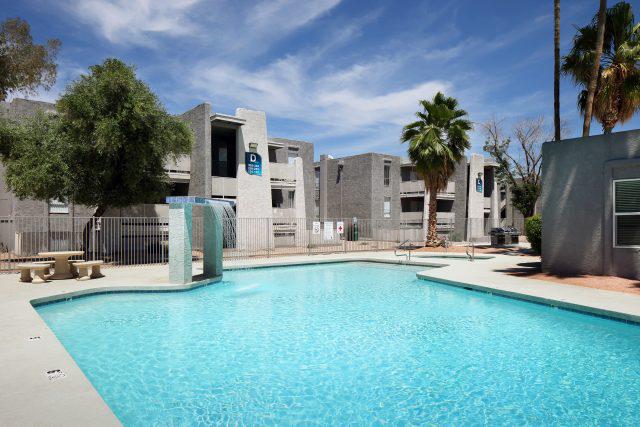 Phoenix, AZ. – October 10, 2017 – The Barone Group of Companies have completed the sale of the 288-unit Dunlap Falls Apartments at 3333 W. Dunlap Ave. for $22,600,000. Dunlap Falls is located in the Metro center submarket in central Phoenix.  The property, offered by Colliers International, was purchased by two California-based partnerships as their first acquisition in the Arizona market.  The buyers' LLCs are based in Colorado, but the investors are headquartered in San Francisco.
The property recently went through a $6M renovation of the community.  Built in 1973, the property features 29 buildings situated on 9.4 acres. The property consists of 240 two bedroom/one bath units and 48 three bedroom/two bath units with a generous average unit square footage of 835 square feet. The property had been leased to an occupancy of 95%+.
The remodel of the complex has dramatically changed the property into an updated, affordable, multi-family living complex; a core part of a major neighborhood revitalization project. "More than $6 million was recently invested in property exterior improvements and specific interior modernization during the past two years," adds Trevor Koskovich, executive vice president of Colliers International.
The newly gated community includes a beautifully remodeled single-story rental office and a community center located at the center of the property. The property features a sparkling swimming pool, children's play area, four laundry facilities, fitness center, club house and an on-site business center.
Apartments feature full-sized electric appliances, new tile/carpet flooring, balcony/deck/patio spaces, and some units offer wood style flooring and extra storage.  Dunlap Falls provides its residents with covered parking and access to Cortez City Park, which is located across Dunlap Avenue.  It also offers direct access through a private gate to the local high school and elementary school.
The Barone Group of Companies has been operating for approximately 20 years, acquiring, developing, or investing in over 100 properties across California, Arizona, Indiana, Nevada, Oregon, New York, Connecticut, Washington, Florida, Rhode Island, Texas, and Michigan, consisting of over 8,500 units.