The Barone Group Purchases New Property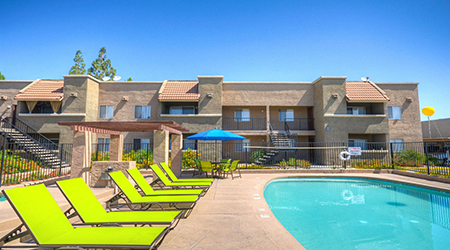 Phoenix, AZ. – November 2017 – The Barone Group of Companies has completed the purchase of the 304- unit Arroyo Vista Apartments in Glendale, AZ for $25,000,000. The Property was sold by The Wasatch Group, based in Utah. ABI Multifamily, a brokerage and advisory service firm that focuses exclusively on apartment investment transactions, represented both Buyer and Seller in this transaction.
Arroyo Vista is a two story, garden-style apartment community comprised of 16 buildings that rest on approximately 10.01 acres.  The property was built in 1984 of frame construction with built-up/flat roofing and boasts an attractive unit mix of 72 – 1-bedroom, 208 –2-bedroom and 24 – 3-bedroom unit types with a weighted average size of 869 square feet.  All units are individually metered for electricity and have individual HVACs and all 3-bedroom units have in-suite washer & dryers. Community amenities include dedicated rental office, resident clubhouse, pool, spa, playground, and dog park.  The property is in excellent shape and has been well operated by the seller over the past 24 years.
According to Doug Lazovick, Partner at ABI, and lead broker for BHG "there were many aspects that drew the Buyer to the property: the heavy majority of Two Bedroom/Two Bath units, attractive going-in Cap Rate and the ability to add-value through modest interior and exterior renovations."
The Barone Group of Companies has been operating for approximately 20 years, acquiring, developing, or investing in over 100 properties across California, Arizona, Indiana, Nevada, Oregon, New York, Connecticut, Washington, Florida, Rhode Island, Texas, and Michigan, consisting of over 8,500 units.